Inkless Tattoo Revision to Improve the look of Stretch Marks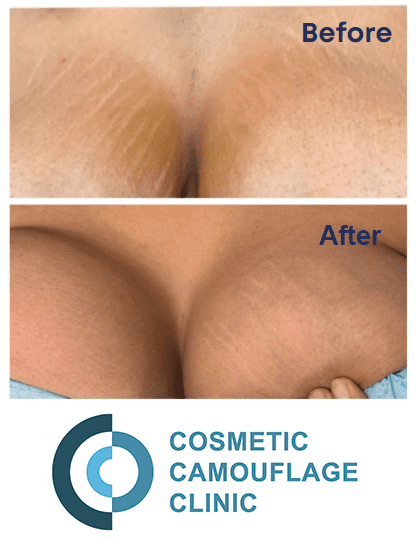 Inkless Tattoo Revision is a safe skin treatment used to improve the look of stretch marks using natural serums, organic oils, and vitamin C. These are used to rejuvenate and reconstruct elastin, collagen, and fibroblast cells, which in turn gives the skin a healthy look.
A vibrating motor in a tattoo machine creates a small wound in the scar area. In a regular tattoo, tattoo needles are immersed in ink and when going over the treated area, deposits the ink into the skin. With the inkless tattoo process, the needles run "dry." A wound is created that allows the special serum to penetrate deep into the skin.
In the case of an inkless tattoo, the technician repeats the pattern numerous times to ensure even coverage, and the client is given special aftercare instructions using moisturizers and scar gel to continue the healing process.
So basically, the procedure for having an inkless tattoo treatment is like that of getting an inked tattoo. The difference is the lack of ink and instead a healing serum is used on the treated area.
When people have tattoos with ink, they are given aftercare guidelines that facilitate speedy, smooth healing and are designed to avoid scarring, which can make a tattoo look unattractive. The same care is given for this Inkless tattoo skin treatment.
Inkless tattooing is also called dry tattooing, medical needling, or inkless needling. Using a serum for this procedure comes with the benefit of having vitamins and healing properties deposited deeply into the skin. This greatly helps to heal the skin quicker, and it gives better results on the scars.
WHO IS A GOOD CANDIDATE FOR THIS TREATMENT?
People with stretch marks that have similar colour to the surrounding skin area
• People with stretch marks with any width but can also be used for stretch marks that are too wide for camouflage tattooing.
People of all ages and ethnicities.
• Stretch marks can be done on any part of the body.
• People do not need to be untanned to do the treatment.
WHO IS NOT A GOOD CANDIDATE FOR THIS TREATMENT?
Stretch marks that are still new. (Should not be pink, purple, or red, which indicate it is still healing). Once formed, stretch marks take about one year to heal.
Pregnant or lactating women.
Anyone prone to keloids skin disorder.
People with blood conditions such as HIV and Hepatitis.
People prone to hyper or hypo pigmentation.
Active skin cancer patients (on the skin area that needs treating).
Those who have scleroderma.
People who are undergoing chemotherapy or radiation.
People who have uncontrolled diabetes.
People who have an active infection of any sort, (for example bacterial, fungal or viral infections).
Also, you may require a doctor's approval for patients with cardiac disease or other related health abnormalities.
IS THE PROCEDURE PAINFUL?
A numbing cream is applied prior to the treatment.  Most people report that the procedure is mainly painless, but it all depends on the individual's pain tolerance level.
PATCH TEST
Sometimes a patch test is required if you suspect you may be prone to keloid scarring, and hyperpigmentation. Patch test is usually done on people with Fitz 4/5/6 (darker skin).
WHAT TO AVOID BEFORE UNDERGOING INKLESS TATTOO TREATMENT 
It is best to avoid aspirin or ibuprofen for at least 24-48 hours before your appointment.
24 hours before your appointment, avoid alcohol, caffeine, and blood thinners.
It is also best to avoid fish oil or vitamin E for one week before your appointment because they are natural blood thinners.
NOTE: If you have any doubts about whether you are allergic to the pigment, allergy testing is encouraged before treatment.
WHAT TO AVOID AFTER AN INKLESS TATOO TREATMENT? 
To avoid infection or discoloration, avoid scratching or peeling.
Wear loose clothing during the next two to three days.
For the next seven days, avoid excessive perspiration. After two days of treatment, moderate exercise is acceptable.
For the next seven days, also avoid exposing the tattooed region to full shower pressure.
For 40 days, avoid sunbathing and swimming (beach, pool, jacuzzi, bath, etc.). Limit yourself to a brief shower rinse.
For the next 40 days, stay away from sunscreen, self-tanning, and any Vitamin D lotion.
Perfumes and deodorants should not be used near or on the treated area.
HOW LONG DOES IT TAKE TO COMPLETE THE PROCEDURE? 
The length of the treatment is determined by the size of the affected area.
A small area takes about 15 minutes while a large one can take up to two hours.
IS THERE ANY DOWNTIME?
This is a non-invasive procedure and individuals can return to physical activities immediately after the procedure. Most patients of this procedure may resume work within the same day or the following day.
HOW LONG DOES THE TREATMENT LAST?
Providing the client doesn't gain or lose a large amount of weight and remains in similar health as when being treated, the benefits of the treatment can last for many years or even permanently.
HOW TO GET STARTED
For more information or to get started about Inkless Tattoo Revision, please call 647-249-7515 or fill out the online assessment form here: https://cosmeticcamouflage.com/contact/